The solution was to give the customer the ability to check if their postcode was in a fibre optic cabled area, if not they could find out when fibre optic broadband would be available in their street. The customer would have the option to show an interest and to enlist their neighbours so Virgin Media could reach their quota and come to cable their street. The map would show how many people in their neighbourhood were interested.
I was involved in the project from the initial stage, starting with sketching ideas and researching to attending client workshops right through to the UI designs and dealing with development queries.
Project type: UI/UX, Service Design
Agency: Fjord
Client: Virgin Media
Lead Service Designer: Malin Maki
Senior Visual Designer: Nicola Hankins
Senior Interaction Designer: Ine Marie Vassøy
Developer: Peter Mansell
We created many different concepts around games and incorporating Google map API's to help with customer engagement, we worked frequently with data specialists from Accenture who knew in detail about the data available for any visualisation, unfortunately most ideas were technically out of scope and budget. 
Our solution to the constraints from Accenture was to work on two versions of the design in parallel, so we produced a 'pilot' and a 'vision' version of the designs and prototypes.
The mobile version of the design
Preparing for a review at Virgin Media
The site was responsive, these are the mobile designs.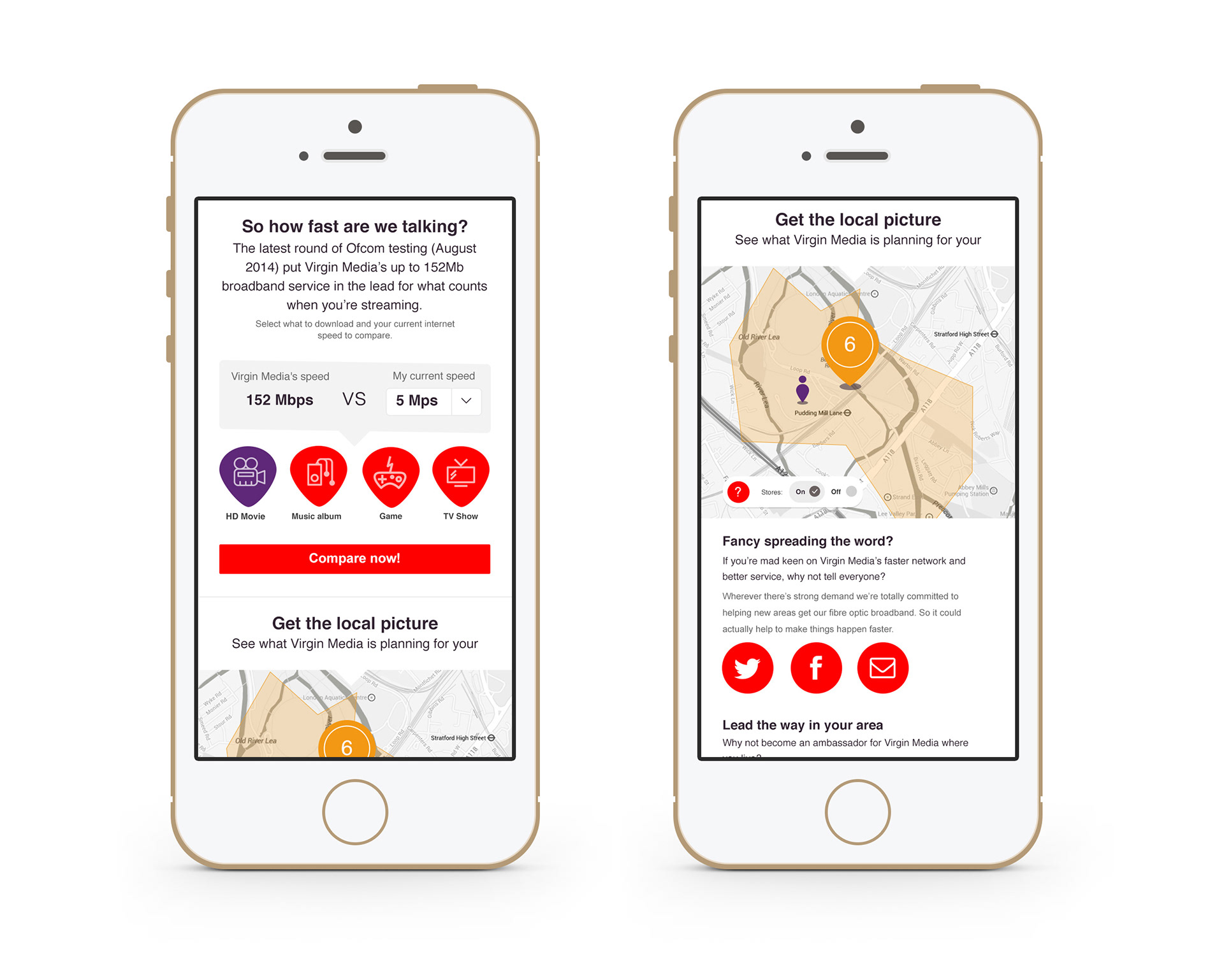 I created a component toolkit as part of the design process, which was helpful for the developer creating the prototype.
The actual visual design phase was less than half of the total time I spent working on this project, the rest of the time was research and ideation. I felt this was a great project to be involved with as I was included in all phases, which is why I stayed as full time employee at Fjord. I enjoyed my involvement with creating concepts and sketching along with the Interaction and Lead Service Designer.